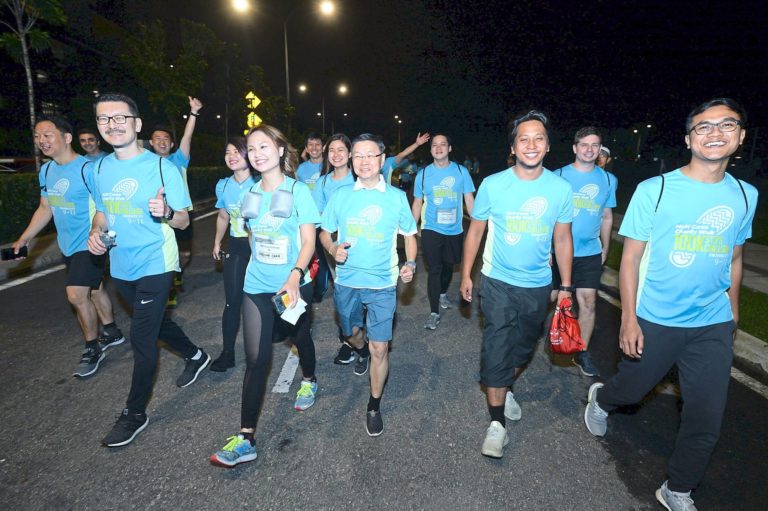 MCMILLAN Woods, through its corporate social responsibility (CSR) arm McM Cares, raised RM100,000 for the National Council of the Blind, Malaysia (NCBM) at the inaugural McMillan Woods 100,000 Steps Challenge at Tropicana Metropark in Subang Jaya.
Currently, NCBM has an urgent need to purchase 50 Braille machines to assist the blind to communicate more effectively.
Negri Sembilan royal Tunku Datuk Mu'tamir Tunku Tan Sri Mohamed, in support of the charity said, "A charity programme like this is meaningful as it helps the blind communicate more effectively and have some form of normalcy in their life.
"McM Cares has done a phenomenal job at creating awareness of the blind's needs for Braille machines. I am glad to be a part of this magnanimous initiative."
There were 13 achievers certified by the Malaysia Book of Records who completed 100,000 steps within 18 hours between 12.01am and 6pm. There were another 10 achievers who accomplished the 100,000 steps after 6pm, making it a total of 23.
The event was also supported by Tourism Malaysia with international participants from Hong Kong, Singapore, China, Indonesia, New Zealand, Australia, Taiwan, Iran, Albania and India, together with newly crowned Miss Cosmopolitan World first runner-up Christine Chai as the ambassador.
McMillan Woods president Datuk Seri Raymond Liew said, "We have social responsibilities to give back to society and we do our best to raise funds, support and create awareness of global challenges.
"We have underwritten to raise RM100,000 for the National Council of the Blind, Malaysia and any surplus going towards supporting old folk's homes.
I would like to thank all our partners, sponsors, celebrity ambassadors, media and all the participants who have taken time off their hectic weekend to support this cause."
The 100,000 Steps Challenge attracted many sponsors who contributed backpacks, T-shirts, medals and trophies as well as goodies and door gifts for all those who persevered through the gruelling 18 hours to accomplish the 100,000 steps.
Treadmills were also sponsored, in case of rain, to help achieve the goal of 100,000 steps.
There were more than 600 participants, including a group of blind people.
The master plan concept of Tropicana Metropark encompasses a holistic living experience set in a 35.6ha freehold land in Subang Jaya.
Beautifully landscaped with greenery and wide pedestrian walkways, the urban retreat cradles the 3.6ha Central Park which comes with its own 750m linear lake.
The vibrant commercial lots are paired with surrounding serviced residences, not forgetting the convenience of the nearby GEMS International School and Tropicana Metropark link that directly connect to the Federal Highway.
The latest phase at Tropicana Metropark, Shoppes & Residences (South) will be a further enhancement to the ensemble of properties within its bounds.
The Star newspaper, Friday, 6 December 2019