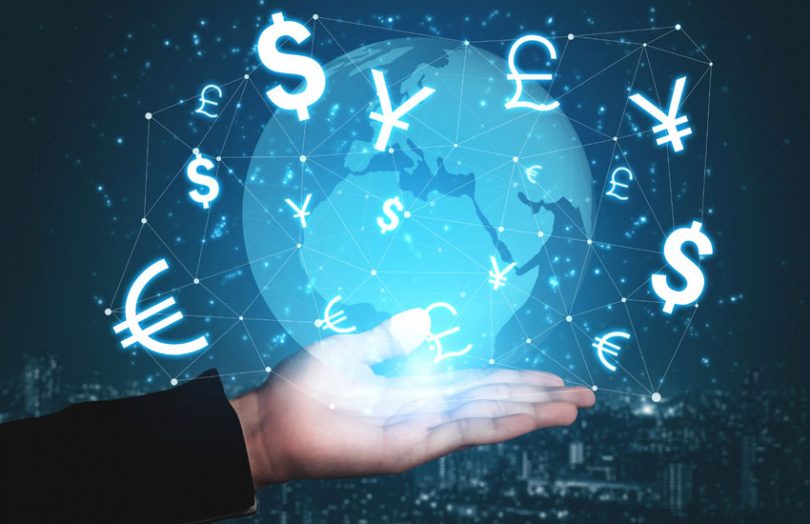 PETALING JAYA: Businesses in Malaysia are allowed to raise funding up to RM100mil through digital token offering beginning the second half of this year.
Public listed companies may participate indirectly in the digital token offering for additional funding through its unlisted subsidiary or a special-purpose vehicle.
The Securities Commission (SC) published the Guidelines on Digital Assets yesterday, which regulates the Initial Exchange Offering (IEO) or the issuance of digital tokens.
Based on the definition under the Capital Markets and Services (Prescription of Securities) (Digital Currency and Digital Token) Order 2019, digital token refers to "a digital representation which is recorded on a distributed digital ledger whether cryptographically-secured or otherwise".
Through IEO, companies with "an innovative solution or a meaningful digital value proposition" and a minimum paid-up capital of RM500,000 could raise capital without selling their equity or incurring debt.
All offerings of digital token must be done through a SC-registered platform operator and are required to include a Whitepaper that describes material information on the issuer, the digital token and the utilisation of funds obtained, among others.
The platform operators are required to assess the Whitepaper prior to the IEOs. The SC said it would work with the platform operators in assessing eligible issuers, during the first phase of the implementation.
The company or issuer ought to demonstrate that it has sufficient safeguards in place to protect the interests of existing shareholders and the token holders.
Once approved, the public may invest in the issuer's tokens, which can be used to exchange for the issuer's product or service.
According to SC chairman Datuk Syed Zaid Albar, digital tokens offering provides yet another alternative fundraising avenue for early stage entrepreneurs.
"This initiative supports Malaysia's Shared Prosperity Vision 2030 (SPV2030) by supporting the growth of small and medium enterprises and micro businesses which are targeted to contribute 50% to Malaysia's gross domestic product.
"It also aligned with SPV2030's aspiration to create 30% high technology Malaysian companies, " he said in a statement.
Based on the Guidelines on Digital Assets, an issuer must comply with the existing requirements of the SC and Bursa Malaysia, if it issues a digital asset which is an existing type of securities such as unit trust funds, bonds, warrants and options.
On fundraising limits, the SC said a company could raise capital at a multiple of 20 times of its shareholders' funds and subject to a ceiling of RM100mil.
Investments by retail investors are limited to RM2,000 per offering and a total of RM20,000 annually. Meanwhile, angel investors could invest in digital tokens up to RM500,000 per year.
On the other hand, there are no limits for sophisticated investors.
Given the high-risk nature of the digital token investments, considering that such instruments are not necessarily backed by assets, the SC has introduced several safeguard measures for investors.
Among others, the funds raised from the IEO will be put under a trust account maintained with a licensed Malaysian financial institution and the cash disbursement will be "milestone-based".
The SC will also conduct post-issuance monitoring of the utilisation of the proceeds.
Meanwhile, a digital token issuer must publish annual and semi-annual reports on the IEO platform to enable token holders to evaluate its performance.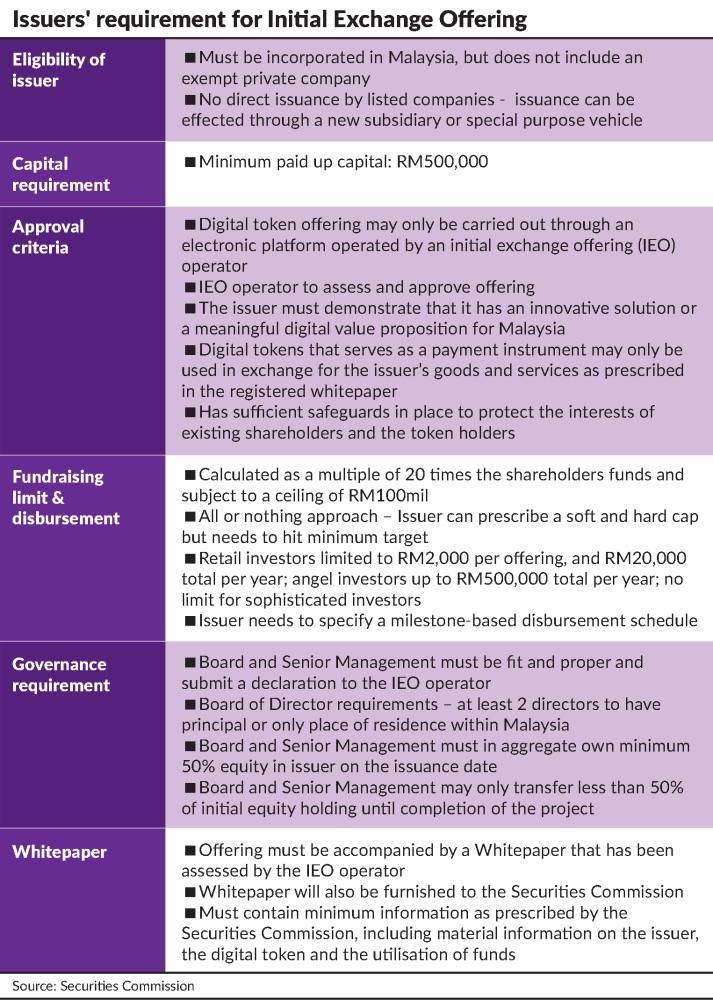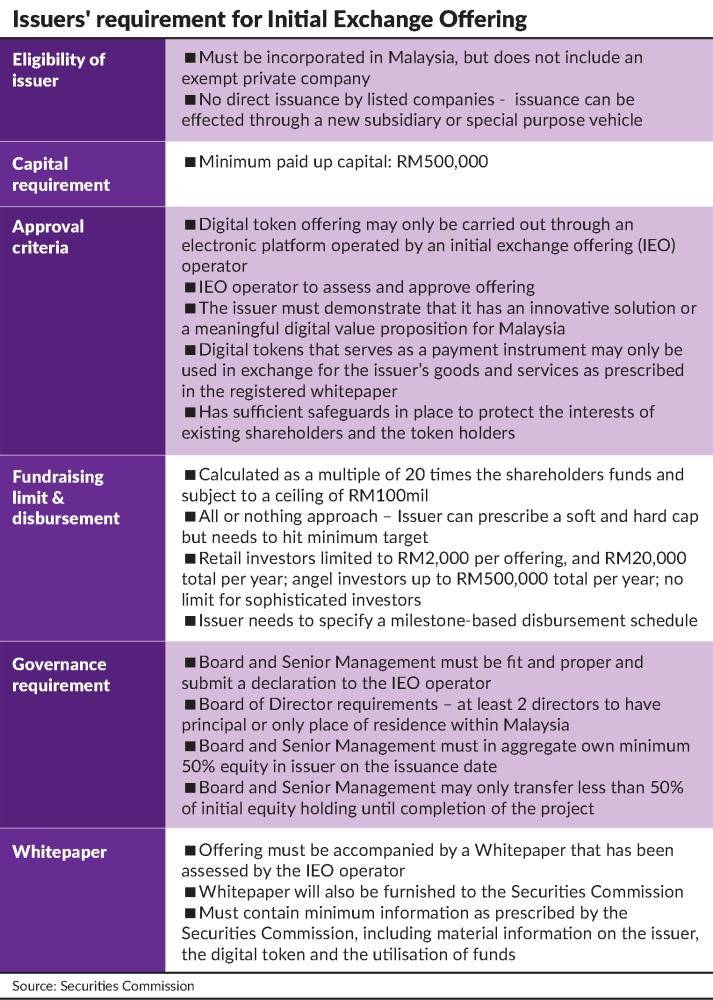 The Star newspaper, Thursday, 16 January 2020