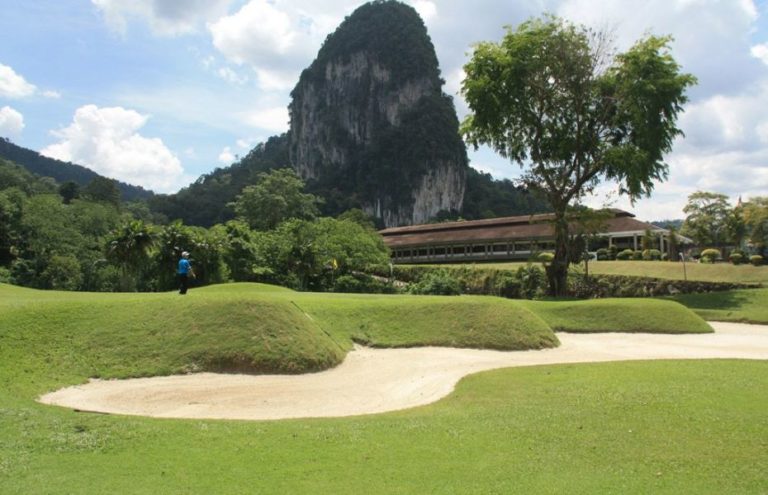 Annual tourney draws a global field to Templer Park. The annual McMillan Woods Charity Golf Open again proved a huge success with no less than 162 golfers in the field and more than RM20,000 raised.
Leading the way on the course was Benedict Wong, who emerged the overall champion and walked away with the big McMillan Woods Challenge Trophy, while Amiruddin Abdul Hamid was crowned the gross champion.
Speaking to TeeUp after the event, McMillan Woods president Datuk Seri Raymond Liew said: "This tournament, played for a third consecutive year, is about more than just golf.
"It is a golden opportunity to combine work, play and the prospect of raising fund for a good cause by members of McMillan Woods and their guests," added Liew, head of the global association of independent local and regional firms of recognised qualified accountants and professional advisors.
McMillan Woods, based in Kuala Lumpur and headquartered in the United Kingdom, provides a broader spectrum of accounting, auditing, advisory and management services and has more than 60 global offices.
"Importantly, the tournament is designed to provide friends and members globally to get together with the intention to raise funds under our CSR drive – the McM Cares Programme," said Liew, "which is firmly committed to active philanthropy and addressing the global challenges of climate change, education and poverty alleviation."
"It is heartening to see firms worldwide continue their never-ending drive to succeed in business, regardless of the present global economic conditions and continue to support the McMillan Woods Charity Open.
"This year we had no fewer than 10 countries represented at the tournament hosted by Templer Park Country Club in Rawang."
Among the nations represented were Australia, England, India, Indonesia, Ireland, Japan, Malaysia, New Zealand, Singapore and South Korea.
"We also enjoyed the generosity of several other sponsors, including Subway, Bagman Corporation, Mydin, BMW Wheelcorp Premium, Fitness Concept, Singapore Precious Metal Exchange, Unique Supreme and Nova Domino," said Liew. "And since the start of our McM Cares programme, more than RM625,000 has been raised," added Liew. "The CSR programme places huge emphasis on the leadership quality of the younger generation and will continue to strive to give back to society and protecting Mother Earth.
"We thank all wholeheartedly for participating in this annual charity golf tournament to raise fund to support our charitable causes. Undeniably, there are two kinds of people in this world: Givers & Takers – The Takers may eat better but the Givers certainly sleep more peacefully."
For more information visit: mcmillanwoods.com – Sunday Star
RESULTS Overall champion: Benedict. Wong.
Gross champion: Amiruddin Abdul Hamid.
Nett: 1 Siva Kumar, 2 Valerie Yap, 3 Barry Sanders, 4 Ricky Choon, 5 Henry Low Kar Onn, 6 Desmond Yap, 7 Sukumar, 8 Jacob Engkatesoo. 9 Datuk Sofian Mdyassin.
NOVELTY CONTESTS
Longest Drive: Ricky Choon.
Nearest to Pin: Alex Yew.
Nearest-to-Line: Tinnesh.
Sunday Star, Sunday, 10 March 2019